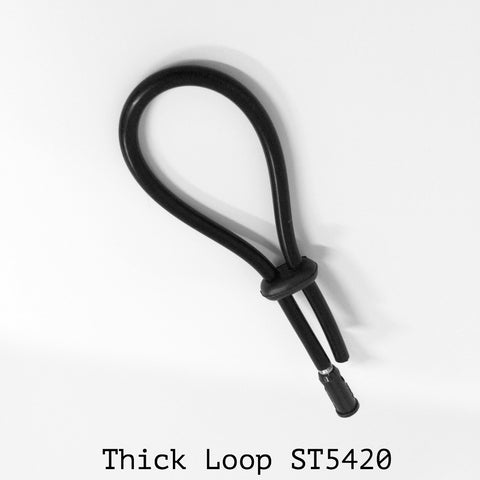 Conductive Rubber Loop - Thick
These rubber tubes are conductive! Formed into a loop, they are easily adjusted to fit around the cock or balls using the supplied spring clip fastener. Can be used in pairs or with any other monopolar electrode, including an ECup, FlexProbe, or CockCap. 
---
THICK Loop — 6.5mm OD x 1.75mm ID 
OD = outside diameter / ID = inside diameter

---
A single Bananas to Pins Adapter is included for plug-n-play connection to any of our Power Units.
Consider the Conductive Rubber Combo 4 Pack to get one of each style and save some money.
This conductive rubber tube is durable, smooth, and very conductive.
Video: See it in Action — Stim Show: Episode 1
Also available: THIN Loop — 4.0mm OD x 1.75mm ID
Apply some water-based lube on your skin and along the surface of the tube to ensure good conductivity. Clean up with soap and water. Avoid harsh chemicals or bleach.
These are monopolar (single electrode) devices and must be used in a pair or with another monopolar electrode accessory to allow currrent to flow.
Contents:
(1) 12" long conductive rubber tube 
(1) Plastic spring clip fastener
(1) Banana to Pin adapter
---
We Also Recommend
---