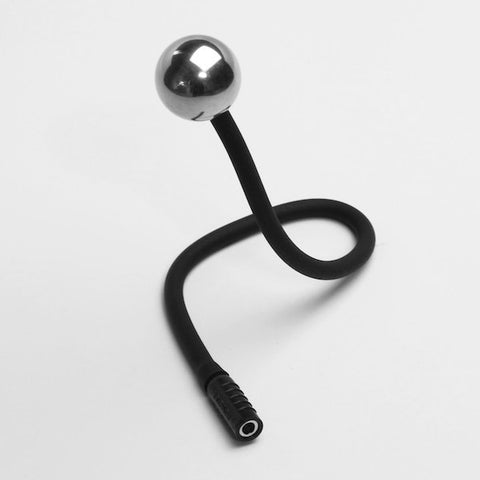 FlexProbe
We designed our FlexProbe from the ground up for simplicity, safety, and easy maintenance. And it also performs! The small, mirror-polished ball is made of an alloy of pure, solid stainless-steel and measures a mere 1" in diameter. It's small, to allow easy insertion and focusing of the stimulation signals applied to it.
FlexProbe is Designed and Made in the USA!  
Connected to the sphere is a length of high-tech latex-free thermoplastic tubing, encasing a bendable conductor. This thermoplastic tubing is specifically used instead of natural latex or other rubbers to avoid the possibility of latex allergies with some of our customers. It protects the bendable conductor and makes a smooth transition from the sphere to the connector at its other end.
Making connections to the FlexProbe is quite simple. Its receptacle is a durable, nickel plated banana jack with an easy-to-hold vinyl boot surrounding it. This makes the jack easy to connect to any leadwire system, including standard banana jacks, TENS/EMS style 0.080" pin leads, and 4mm snap connectors (pinch and standard snap sockets) using our adapters as needed.
Note: This is a monopolar electrode and requires another toy in order to complete an output circuit. ("Monopolar" = 1 electrode surface)
---
We Also Recommend
---