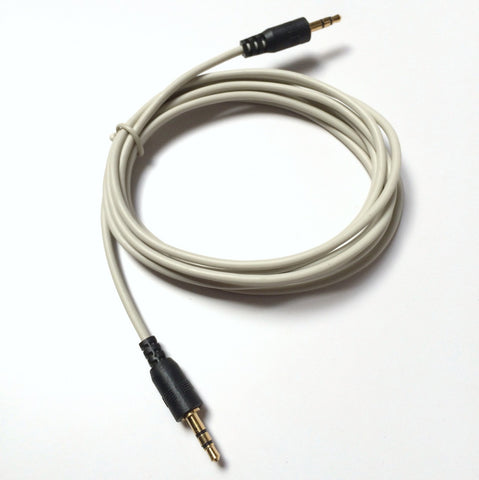 Link Cable for ET312
Allows one ErosTek ET312B power unit to control another, for 4 channels of synchronized stimulation. Made from the finest-quality shielded cables for best data signal transmission. Connects via the "Link" jack on both units. This cable is beige in color to distinguish it from a standard stereo audio cable which is usually black. The wiring has been crossed-over in the Link Cable — that's what makes it "special."
Note: The Link adapter cannot be used with ErosLink software at the same time, since it utilizes the Link jack in order to operate.
Requires (2) ET312B Power Units.
Linking Procedure:
To link two ET312s, first turn both units OFF and connect the Link jacks together using the optional ErosTek Link Cable:
Turn both units ON.
Select the "Link Slave Unit?" option on the master unit from the MENU options. '=
Once the link is established, "Linked" is displayed and the master unit may now be used normally and the slave unit will "mirror" its actions.
If an error is displayed, turn both units OFF and back ON to try again.
Most routines can be linked using this cable, however a few cannot. Here's how the built-in routines work with the Link Cable:
| | |
| --- | --- |
|  Routine | Link? |
| Waves | YES |
| Stroke | YES |
| Climb | YES |
| Combo | YES |
| Intense | YES |
| Rhythm | No |
| Audio 1 - 3 | No — but you can use an audio splitter cable to feed the same audio into both ET312B's. |
| Split | YES |
| Random 1 - 2 | YES |
| Toggle | YES |
| Orgasm | YES |
| Torment | YES |
| Phase 1 - 3 | No |
---
We Also Recommend
---