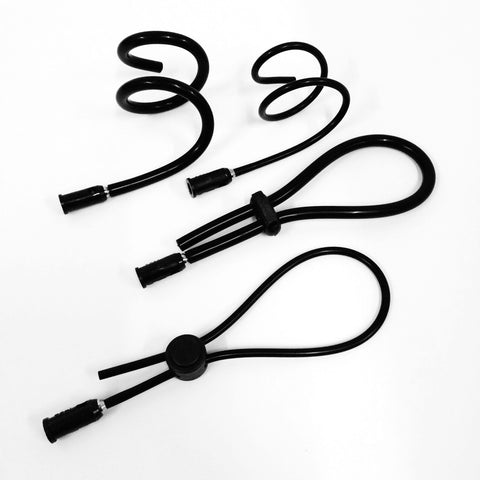 Conductive Rubber Combo 4 Pack
Here's an easy way to find the Conductive Rubber combination that works best for you. Get one of each style for a total of 4 possibilities in durable thin and thick conductive rubber tubing.
Just what you need to keep your e-stim session going long and strong.
A $115 Value. Save $16 when buying a Combo Pack compared to buying each electrode separately.
Our conductive rubber tube is durable, smooth, and very conductive.
4mm Banana adapters allow for plug-n-play connection to any of our Power Units.
Coils with wire inside wrap around your cock and stay put...like magic.
Loops have a sliding fastener that allows you to cinch them up around your balls or anywhere along the shaft. Used in combination, they open up another set of sensations for beginning or advanced users.
Apply some water-based lube on your skin and along the surface of the tube to ensure good conductivity. Clean up with soap and water. Avoid harsh chemicals or bleach.
These are monopolar (single electrode) devices and must be used in a pair or with another monopolar electrode accessory to allow current to flow.
What you get:
---
We Also Recommend
---